Application Maintenance
Our approach takes a complete view of technology, information design and services. We first understand domain, technology sitemap, and applications, then optimize and align team structures to deliver improved application support. With minimum downtime and volatility, your applications stay optimally geared to provide rapid responses to key change requests and business requests.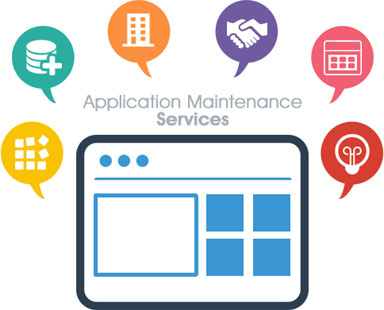 The data can be accessed from any part of the world with out any delay in time. The whole software will be uploaded in to a secured server which have a secondary server back up also for making the data safe.
Our Application Maintenace Services Are:
» Server Side Management
» Portal Maintenance
» Application Maintenance
» 24/7 Production Support
» Security
By leveraging our delivery model, we have helped our customers achieve significant cost savings in their maintenance spends. We have established metrics-based processes to handle transition and remote delivery of maintenance. We assume total responsibility for maintaining existing IT applications and have consistently delivered high service levels. Use of exclusive and third-party tools aid us in delivering the best to our customers.
Benefits
» Significant reduction of maintenance costs
» Timely release of programs and enhancements
» Improved knowledge management
» Portfolio optimization
» Cost variability for cyclical businesses
» Ongoing alignment with industry trends
Our Services include :
» IT and Business Process Consulting
» Application Design, Development & Maintenance
» Legacy Application Migration
» Enterprise Application Integration
» Re-engineering
» Data Conversion, Migration and Maintenance
» Database Administration
» Security and Infrastructure support
» Application Hosting
» Offshore Outsourcing
Our Services help customers to :
» Improve business focus
» Achieve higher quality and productivity
» Shorten project schedules
» Utilize highly specialized knowledge
» Add staff without overhead
» Reduce overall IT cost