Our Methodologies
The Trivium India Software Software Development Methodology not only provides structure, but it also provides guidelines for tailoring alternatives for standard approach, to suit different client requirements and processes. The core strength of our methodology is that after tailoring and blending with client's processes, it is zero learning for the client as processes remain same for them.
The framework of our methodology allows us to adopt a variety of techniques and tools for carrying out the defined tasks. It also allows us to change techniques and/or tools as new products come onto the market without changing the methodology.
In achieving financial success, it takes a perfect combination of having the right IT solution that addresses the unique needs of your business and partnering with the right people. Finding the ideal IT partner is equally important as finding the right solution for your business. The risks involved in partnering with wrong solution providers are high and can result to costly and irreparable business mistakes. Hence, it is important to work with the right IT partner, an industry specialist. An industry specialist is a partner you can trust that will lead you to get insights, support and expertise that will propel your business to succeed.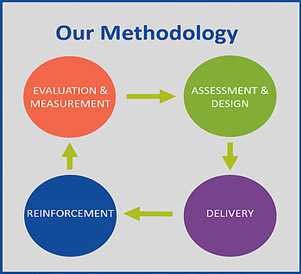 By re-utilizing clearly defined processes and tasks, our methodology simplifies the development process. The sequencing of those tasks and the completeness of those deliverables have been previously proven, thereby ensuring clarity and certainty to the process. Our methodology's proven experience ensures that there are no holes to be overlooked or tasks to be duplicated.
Our decision to document our software development methodology stems from the belief that before you can improve a process, you must document it. This document demonstrates that we have a
documented process for building software. Our intention is to identify and improve the software development life cycle we use to build software.
It is important to note that our methodology is an evolving methodology that is revised on an ongoing basis. It is not to be considered etched in stone, but is to act as a guideline and is to be used in accordance with the needs of the current project.